April 22 at 4pm.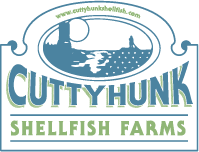 WebEx link to be provided at a later date.
Seth and Dorothy Garfield started their 1st year of operating the oyster farm and Raw Bar in 1981. The West End pond has been used to raise Belon Oysters (81-89) and now the famous Cuttyhunk Oyster.
Seth is an incredible advocate for the Massachusetts oyster fishery and is the President of the Board of Trustees, Massachusetts Aquaculture Association. We are excited to give him an opportunity to share his story with us and to find out what else he has in store for Cuttyhunk Island and oysters from the rest of the region.
He will also show us the proper way to shuck an oyster and teach us the best way to enjoy one
In addition, First Trust Portfolios will present a brief economic perspective looking back at the beginning of 2021 and a preview of what's to come for the rest of the year.
Please Sign Up by Wednesday, April 14th for oysters by emailing our office. The earlier the better as this will give us time to ensure timely delivery of your complimentary oysters.