2020 has been a long slog in many ways, but with Election Day around the corner, we wanted to share a few thoughts on where we have been so far, and importantly, what lies ahead.
After a strong start to the year (rising wage growth, low unemployment, generally strong earnings reports), the global economy and markets were upended as COVID19 spread globally. Economies across the world have fared differently depending on a variety of factors. But the US "Market" seems to have recovered relatively well thus far. The fact is, US equities cannot all be painted with the same broad brush, but large/mega-cap companies, which are heavily represented in the S&P500 Index (i.e. what the news typically refers to when discussing "the market") have weathered the storm better than smaller companies. As what we have seen is essentially a large-scale movement towards consolidation across businesses, and smaller, less well-run companies have been gobbled up or gone under. Technology, Research, and Manufacturing have fared particularly well year-to-date. We have also seen strong Federal Reserve support, which continues today.
This Election Day, we are almost certain to see increased volatility. When I think back to the market volatility of the Election Night of 2016 – massive spikes – we fully anticipate to see similar levels of market movement in the coming days. This is combined with the effects of COVID – the longer the economy remains shut down, the more difficult the recovery becomes, not necessarily for all businesses, but for smaller businesses, service industries, restaurants, travel, and the like. And so while there are still opportunities to make money in "the market," it is more important than ever to be deliberate in making decisions of how to invest. We saw today (Oct 29) with the release of the 3rd Quarter GDP figures that the US economy has bounced back significantly, but we are still in a deep hole (think: depths of the 2008 banking crisis) and still have ~ 10M more unemployed than we had in February. The point is, we have a long way to go, but we have great confidence knowing that this country is capable of doing the work ahead.
Ultimately, we need to make sure that short-term volatility does not lead to rash decision making! October 28th was the 16th day that the S&P500 lost 3% or more this year; but there have been 12 days of 3% or more in gains. While unusual for "typical" years (as if there is such a thing), as we have seen in the performance of our portfolios over the course of this tumultuous year, having a steady hand and making decisions in deliberate, well-thought-out ways is fundamental to long-term investment success.
Also important to keep in mind – the market cares far, far less about who is in the White House or the partisan composition of Congress than folks' personal opinions. In some ways, that is good! Having the discipline to take emotion out of investing is another key to long-term investment success! And so while we may expect one set of policies or another for the next 4 years (whether there is a change from the status quo or not!), we always encourage folks to not let that effect their long-term investment goals.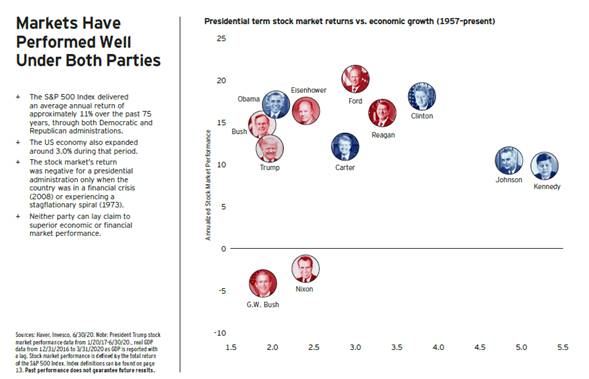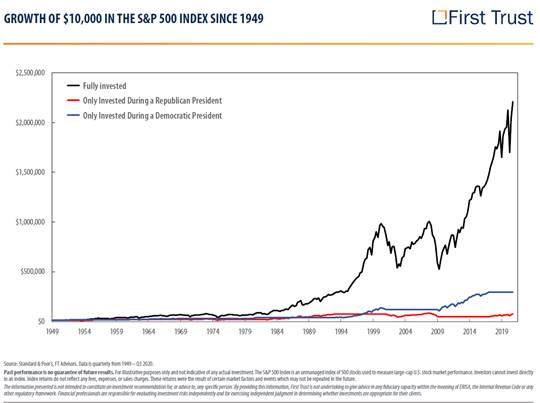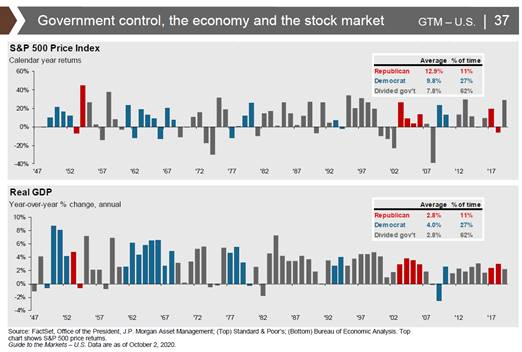 Depending on what the next few days bring, we remain ready to make portfolio changes or adjustments as necessary, but as usual, we will be communicating those to you should that be the case. At present, we feel good overall about how we are allocated, and even in spite of the market pullback in the last few days, and even if we do see continued volatility in the short-term, we expect to ride through these choppy seas.
I hope this finds you and your families safe and happy and healthy, and we look forward to speaking with each of you soon!