To start off the new year, Tucker will be participating in an online webinar geared towards young professionals that will further educate and prepare individuals for financial planning.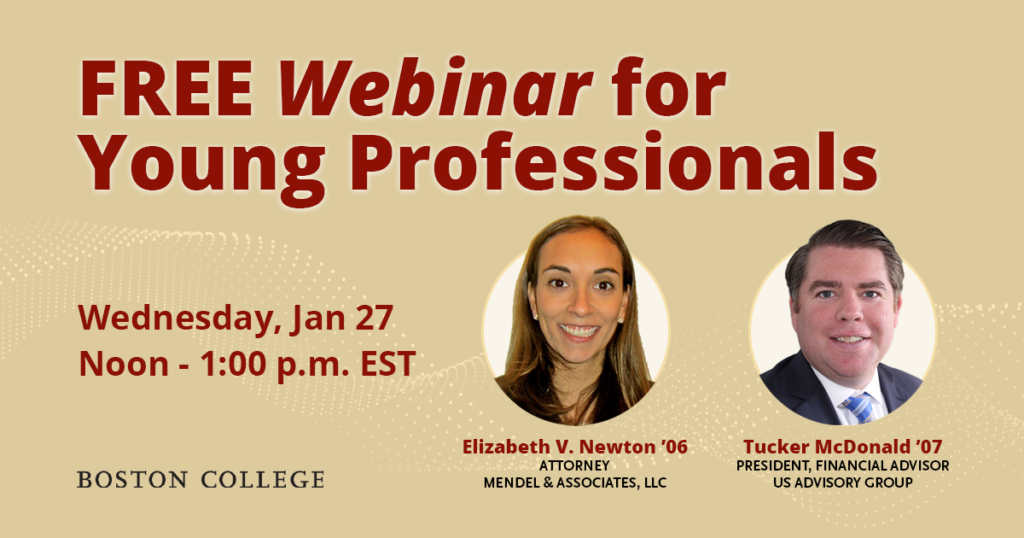 The event is presented by the Boston College Shaw Society. Attendees will learn crucial information about Estate Plan Documents and building an estate plan. In addition, Tucker will discuss core budget principles as well as how to build the foundation for achieving financial security.
A connection with Boston College is not necessary to attend. Click here to REGISTER.
---
•This information is not intended to be a substitute for specific individualized tax, legal or investment planning advice as individual situations will vary. For specific advice about your situation, please consult with an attorney, tax or financial professional. The information contained herein is not a complete summary or statement of all available data necessary for making a decision and does not constitute a recommendation. •Securities offered by Registered Representatives through Private Client Services, Member FINRA/SIPC.  Advisory products and services offered by Investment Advisor Representatives through US Advisory Group, a Registered Investment Advisor.  Private Client Services and US Advisory Group are unaffiliated entities.  Further, Tucker McDonald, Private Client Services and Elizabeth Newton are not affiliated.