While the Global Economy worked to get back to normal after a tumultuous 2020, investors found continued sources for optimism amid a world of rising inflationary pressures and global and domestic political and policy uncertainty.
We first look at the relevant storylines and hot topics of the year, then consider the impact these events made on the investment markets. Later, we discuss potential opportunities and headwinds as we look out into 2022. We look forward to conversations with you in greater detail and noting the impact on your financial plans during our regular one on one reviews in the coming new year.
---
The Pandemic and Inflation
As much as we'd prefer not to start here, it remains clear that the global economy in 2021 was massively affected by COVID, Vaccines, and Healthcare policies around the world. After early fits, we saw a generally successful global vaccination roll-out in early 2021 and then a relatively quick tapering of population vaccination percentages coming through Summer 2021. Vaccination status has, improbably, become in the US almost a political stance, and despite government and business mandates, approval for additional vaccination use & boosters, the US has seen a rather modest increase in overall vaccination rates since late September.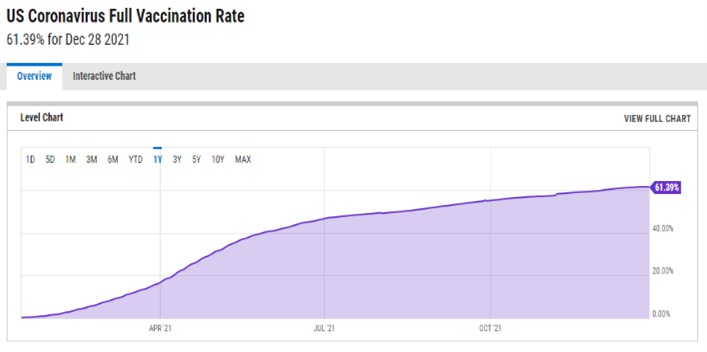 Why is the vaccination rate one of the first things we look at when concerned with the growth of the economy? The number of cases and the contagious nature of the new variants is restricting the full opening of the economy. The chart below highlights the ongoing recovery of four subsets of the service industry since the beginning of the pandemic. Without getting these numbers back to pre-pandemic numbers, the economy has struggled to fire on all cylinders. Hotels, restaurants and air travel industries are still hampered by restrictions and caution taken due to the virus.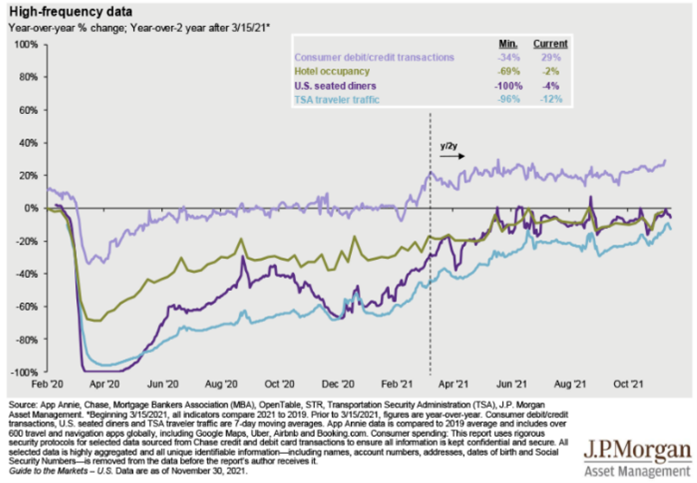 Inflation has also been a big part of the story in 2021 and we expect that to continue looking ahead. The domestic and global response to COVID involved a massive amount of debt spending and cash infusion from national governments, and with that flood of money into the economy, inflationary pressures were due to rise at some point. What began as highly concentrated pricing increases have flattened in some cases and broadened to other sectors. This is due to the almost instant move in Spring/Summer 2020 in the US. We saw a shocking shift from a Service-based to a Goods-based Economy that struggled to produce leading to a supply chain failure. As supply-chain worries eased in the 4th Quarter, we are still seeing atypically high demand in some sectors of the economy that continue to push prices higher. This chart shows the steady rise of the inflation rate throughout the 2nd and 3rd quarters of 2021.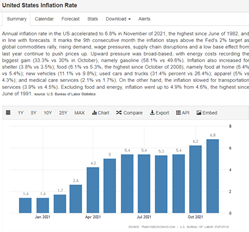 ---
Political & US Domestic Policy Notes
Obviously, the year began with a substantial swing in political direction in Washington, which poses major ramifications for investors. However, as we'd said entering 2021, the policies of the Biden White House, while certainly impactful for the larger economy and for investors, did not cause a material headwind to (in a massive over-generalization) US Equity market growth in the short term. As we have talked about for a while now, much of 2021 (and likely 2022 as well) will still be overwhelmingly affected by the digging out from COVID and getting global economies back to pre-COVID levels.
That is not to say that there are not major issues that investors will be facing due to Democratic policies rolled out in 2021 – The Infrastructure Bill that passed in November 2021 will be pumping additional dollars into the US economy for years to come; and while the Build Back Better bill appears at this date to be more-than stuck, there are a number of impactful policies that remain popular that we expect to see some version of in 2022. We also saw a passage from a House Committee of the SECURE Act 2.0 (following up from December 2019's passage of the SECURE Act) in May 2020 that seemed likely to move through Congress until it was stalled by other legislative priorities – more on that below.
Chairman Powell & Fed Policy has also been highly impactful for investors this year. We expect several Fed Fund Rates increases in 2022 – at the moment, market sentiment is expecting 2 or 3 rate increases in 2022, beginning in March – but there remains a high degree of uncertainty as we see what the economic/productivity impact of a Omicron-filled Holiday season will be in the US (amid other factors).
---
Turning to the Markets
Equity Market Trends for 2021 are highlighted below by Style & Size as well as the VIX Volatility Index.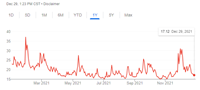 The VIX is a real time market index representing the market's expectation for volatility over the coming 30 days. Chart as of 12.29.21
Our biggest takeaway from the year was the tepid reversal back towards a service-oriented economy, which we expect to continue into 2022. We see valuations are relatively high, but we saw a strong Q4 corporate earnings season to justify those numbers – while wage growth is up and unemployment numbers are trending down, we will continue watching earnings closely.
One tool we use to gauge the temperature and direction of the market is the value dispersion chart of the SP500. It is a great reminder of the importance of active management in portfolios, as the spread between highest- and lowest-performers of the S&P 500 has spiked recently and the industries that have escaped the pandemic's wrath have become big winners. This is also something we have been talking about for many months now and we see no reason to expect that trend to stop.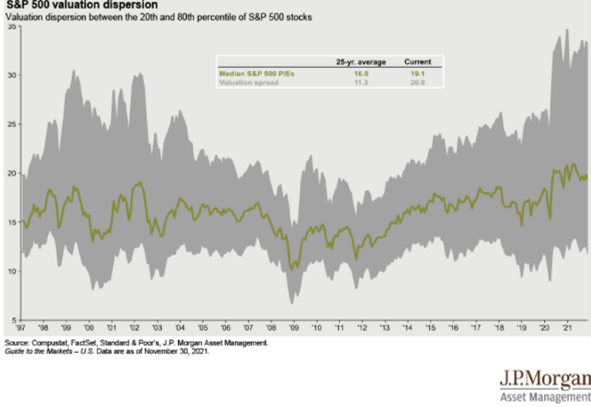 On the Fixed Income side of the world, we should start with the current Fed Dot Chart – which shows where Members project the fed funds target rate to be in the future.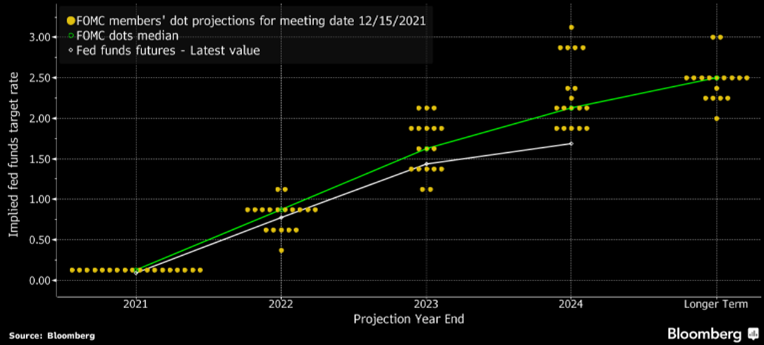 Clearly a rising interest rate environment puts pressure on bond prices, which means that to find greater return in the fixed income world, you are looking at notes that are riskier. Having said that, fixed income investors are not new to this world or concept, as we have been facing a rising-rate world for quite some time. The Fed's dot plot and Fed Fund Futures have both homed in on two to three rates hikes in 2022 and the Fed's latest Summary of Economic Projections pointed to a long-run policy rate of 2.5%, holding steady from September 2021's report.  Equities appear comfortable with that call as markets rallied post December 15th's press conference. The major issue to avoid is taking on undue risk for inappropriate returns – many investors look at fixed income positions to provide stability and protection around their equity portfolios and taking on undue runs counterproductive to that end. We will be watching broader trends in the space as we look to balance asset preservation with growth.
What else are we looking at in 2022?
First, let's go back to the global pandemic, and while the falling hospitalization and fatality rates for Omicron cases is (relatively) encouraging, there are still myriad COVID-related issues that could cause market turmoil or opportunities. We remain optimistic that economic-impacting policies will be adjusted if we continue to see lower hospitalization rates, particularly among the vaccinated population.
Second, Legislative & Fed Policy Changes are in the works for Q1 2022. The SECURE Act 2.0 Bill that seems to be getting reworked into the legislative calendar for 2022 will be relevant for many clients & we will have updates to come as that works its way through Congress after the New Year. And obviously Fed signals are scrutinized and have market-moving potential that we are watching closely.
Third, lest we forget, there is another federal Election coming up in November 2022 that has the potential to cause major policy and legislative changes – we are not in the business of political prognostication, but history would lead us to think the House tends to revert to the Party not in the White House in a mid-Term, and we expect a close outcome overall.
And finally, the typical global hotspots are always potential sources for turmoil – the Russians are massing in Ukraine, Iranian saber-rattling continues, non-state (real or titular) cyber threats seem not to be quelled by the Biden White House's threats, and China, while dealing with their own massive internal issues, has no shortage of ways to stir instability.
Final Thoughts
Bumpier progress on the Pandemic than expected has slowed future growth projections slightly from earlier in 2021 but here are some reasons for our optimism.
We expect much less Federal Stimulus in 2022 compared to 2020 and 2021 but stimulus is still working its way through the economy – private investment in the economy, not government spending, should do wonders for economic growth
A still-recovering economy signals potential room for continued growth but that may taper as we get back to pre-pandemic levels of economic output
Wages should continue to grow & the demand for labor will also increase
This new year is poised to be a positive year in the markets, but when looking out beyond the next 12 months, there are obvious headwinds in the US equity markets that may emerge. We will continue to create investment solutions for our clients that meet and exceed their goals and objectives, adjusting when necessary if need should arise.  We are thankful for the trust our clients place in us and for the information we use that is shared with us through our professional network of experts and we will continue to issue our updates and commentary in the months ahead!
Have a safe and healthy start to the new year.